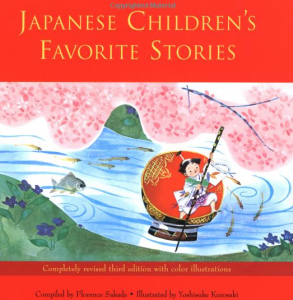 In preparation for another visit to Japan I've been reading the children some Japanese folk tales – as well as watching large swathes of the Studio Ghibli films, paying particular attention to the shape-changing Tokyo-dwelling racoons in the quirky Pom Poko. I probably would have introduced the awesomely weird Great Yokai War had they been a bit older.
I was looking for some good, well illustrated, collections of stories and came across Florence Sakade & Yoshisuke Kurosaki's Japanese Children's Favourite Stories at a local bookshop. Originally compiled in 1953 from stories in an English-language version of a Japanese children's magazine of the time, I bought the third edition (2007) which has lovely coloured illustrations and an audio CD of the stories for the car.
I've been really impressed with the attention that these stories have managed to keep when I read them to the kids. The stories are the right length to get through a few in a night. We're particular fans of the Why The Jellyfish Has No Bones and The Old Man Who Man Who Made Trees Blossom – both stories with absolutely horrible evil protagonists; and of course, The Rabbit In The Moon is a great short story which helps explain why the 'rabbit is making moon cakes' at full moon.
Recommended.
(And, coming back to the Great Yokai War, I'm really hoping we can pick up a copy of the Shugeru Mizaki's Yokai Encyclopedia – but in the meantime The Obakemono Project is a fantastic online resource for the weirdest Japanese goblins!)